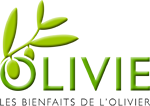 OLIVIE Force Anti-age:
5500 times richer in antioxydants compared to a regular extra virgin olive oil.
Our vegetal capsules OLIVIE Force Anti-age beneciate from confirmed health allegation of EFSA (European Food Safety Agency) concerning the antioxidant effect of olive tree polyphenols
The polyphenols OLIVIE Force Anti-age (hydroxytyrosol, tyrosol, oleuropein...) are known to be powerful antioxydants, They are one of diatery supplements most often touted as a natural anti-aging product. Proponents suggest that increasing your intake of antioxidants may help slow the aging process and prevent a number of aging-related deseases (including heart desease, cancer and Alzheimer's). The capsules OLIVIE Force Anti-age, 100% natural, contain in a concentrated manner all the benets of the olive tree.
• Their concentration of the main antioxydant hydroxytyrosol(>40'000 mg/kg) is 5500 times greater than a regular olive oil (7mg/kg)!
• An unrivaled richness in hydroxytyrosol, this antioxidant exceptionally bioavailable and easily absorbed by the body.
The world highest ORAC value ever achieved: 3672 mmol TE/kg, the best way to neutralize harmful free radicals.
100% natural
OLIVIE Force Anti-age is naturally obtained from olives by physical extraction without using additives or solvents.
Organic Product
The components of OLIVIE Force Anti-age are organic certied and 100% natural.
Translation of OLIVIE Plus 30x organic into vegetal capsule form but 130x more rich in hydroxytyrosol
This concentrated formula naturally increases mitochondria biogenesis and promotes active rejuvenation of your body celles.
Suggested use
4 vegetal capsules per day after meals. According to EFSA, the antioxidant benecial effect is obtained with a daily intake of at least 5 mg of hydroxytyrosol. In other words, OLIVIE Force Anti-age is beneficial from the consumption of one capsule daily (20 mg of hydroxytyrosol/Capsule).
Ingredients
Olive tree extract (Olea europea L.), olive oil rich in antioxidants, food grade clay, hypromellose (vegetal capsules).
Free of:
Gluten, wheat, milk, yeast, artificial aromas, conservatives, dye-stuff.